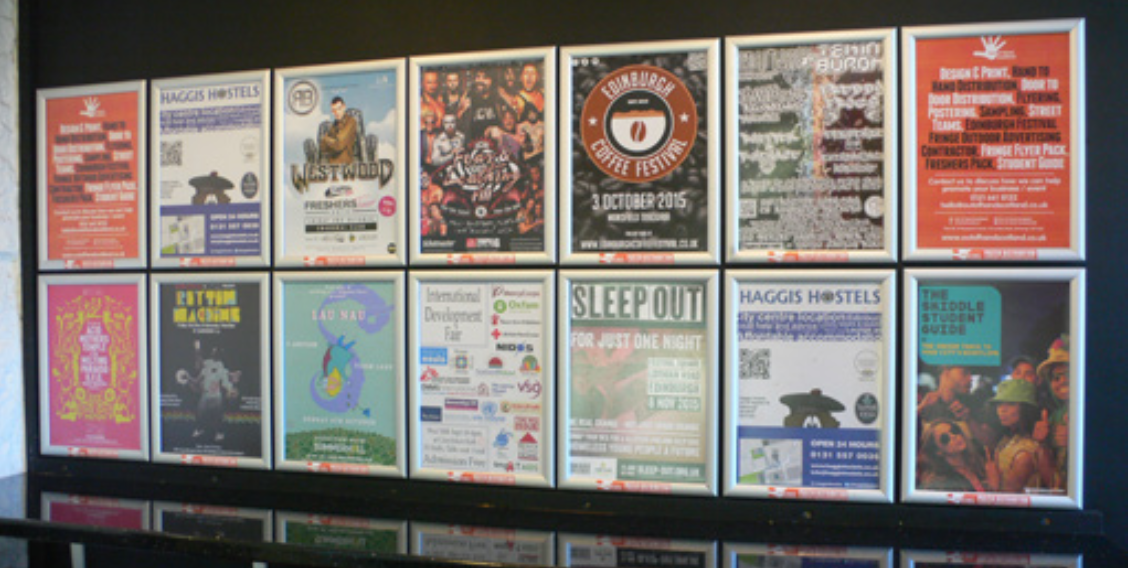 We have over 100 outlets throughout the city centre with our branded A3 poster frames installed.
Outlets include retail outlets, bars, pubs, cafes, coffee shops and takeaways. These outlets are exclusive to Out of Hand, so during the Fringe this means that no other event promoter / poster distribution company can take your poster down and replace it with there's, providing you with guaranteed visibility. Posters displayed in our network of A3 frame outlets need to be booked separately and are not included in the general poster distribution service.
WEEKLY BLOCKS:
Adv Week: Mon 22nd July – Sun 28th July
Week 1: Mon 29th July – Sun 4th August
Week 2: Mon 5th – Sun 11th August
Week 3: Mon 12th – Sun 18th August
Week 4: Mon 19th – Sun 25th August
KEY POINTS:
Booked in weekly blocks
Posters changed every Monday
Display period is Monday – Sunday
Free online proof of posting gallery so you can see where you posters have been displayed (photos show poster on display).
£2.50 + vat per poster, per week (A3 portrait option only)
NOTE: Please be aware, as much as we do everything reasonably possible to keep your posters displayed, once we leave each location we cannot be held responsible if your posters are removed by other parties. Our online proof of posting gallery is not real time, and it may take a few days for your images to be uploaded, after the distribution has been undertaken. Min order 20 posters a week.