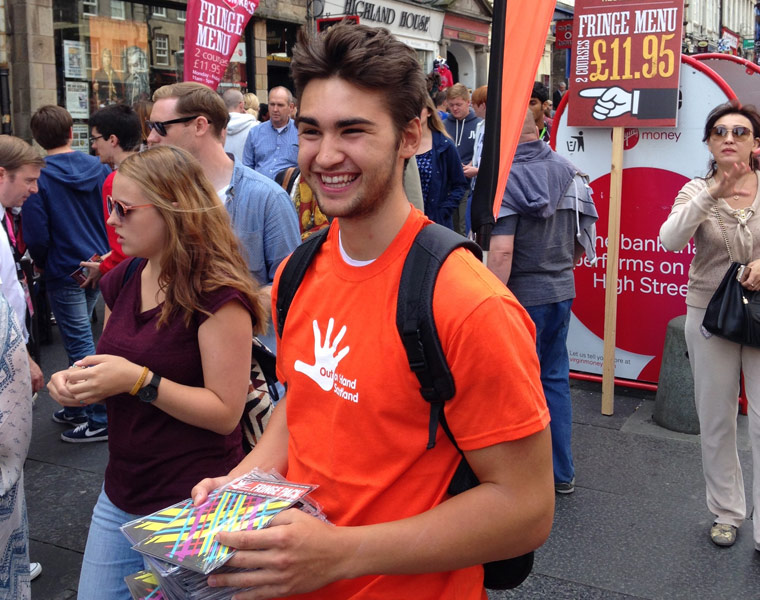 Probably the most direct and targeted distribution you can get!
Our professional trained, friendly and approachable staff are available to distribute to the general public seven days a week throughout the Edinburgh Festival Fringe.
Whether you're a performer, promoter or venue manager, we can arrange and manage street level promotion for your Fringe marketing activity at locations and times of your choice throughout Edinburgh with our team of experienced promotional staff. Our staff are approachable, enthusiastic, reliable and outgoing and as the first point of contact between your show and potential customers, you can rely on them to create a good first impression.
Need staff to flyer at 10am? NO PROBLEM
Want them to dress up as a Hippo? NO PROBLEM
We cater to any (reasonable!) request and our experienced, presentable and professional promotional staff are available for a wide range of promotional activities.
Already got a street team or doing it yourself? We can work alongside your existing team to give extra impact – after all you can't be in two places at once!

Our staff help establish and support your show, no matter how big or small
Activity tailored to suit your budget and needs – targeting your specific audience
Promotional staff available seven days a week during the Fringe
You can provide branded clothing for our promotional staff, or opt for our street team uniforms of branded t-shirts, hooded tops and jackets depending on weather conditions (this is Scotland after all!)
All promotional staff are met by a supervisor, briefed on the full campaign requirements (including target audience) and supervised throughout their session
Reports on target audience response can be obtained after each promotional session, inc photos if required and your campaign can then be modified where needed to ensure maximum impact.
Street team staff can see your show before promoting it too (by prior arrangement)
COST:
2hr – 10hrs: £30 + vat per member of staff, per hour.
11hrs-20hrs: £27.50 + vat per member of staff, per hour.
21hrs or more: £25 + vat per member of staff, per hour.
(Minimum booking is one person for 2hrs)
Note: There is an additional surcharge for wearing show specific brand clothing or fancy dress costumes – this will be confirmed when you place your booking.