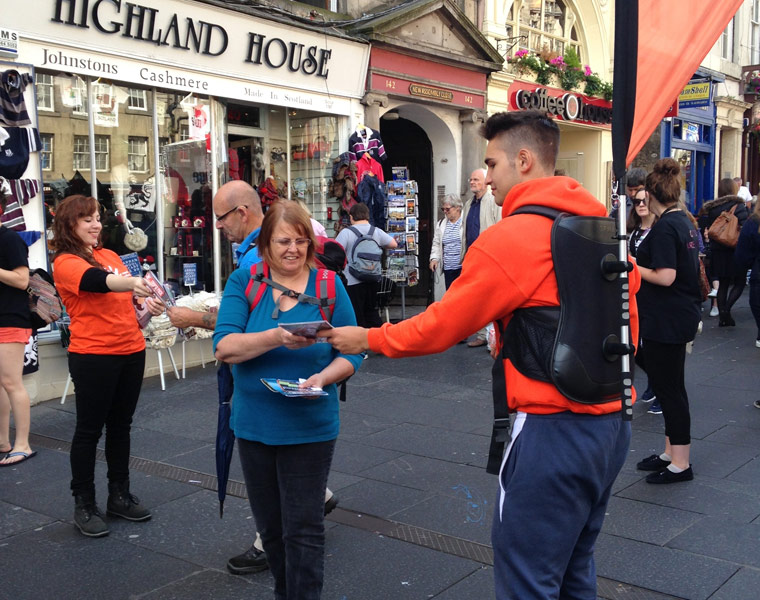 Hand to Hand distribution is proven to be one of the most effective methods of ensuring your message gets into the hands and minds of your target audience. Whether you're a promoter, venue manager or agency, we can arrange and manage street level promotion for your marketing activity at locations and times of your choice throughout Edinburgh with our team of experienced promotional staff. Our staff are approachable, enthusiastic, reliable and outgoing and as the first point of contact between your event/ brand and potential customers, you can rely on them to create a good first impression.
Hand to hand distribution is one of the most targeted forms of distribution:
Our staff help establish and support your event or product, no matter how big or small
Our staff make an event unforgettable, establishing the tone and adding credibility to the promotion
Campaign can be tailored to suit your budget and specific needs
Branded staff – you can provide your own branded clothing or opt for our street team uniforms of Out of Hand Scotland branded t-shirts, hooded tops and jackets
All staff managed by on site supervisor, briefing the team on the full campaign requirements (including target audience) and supervised throughout their session
Post campaign evaluation report with feedback and photos
COST: £25 + vat per person per hour
(Discounts apply for block bookings of 10hrs or more)
To book in your hand to hand distribution or for additional information about this services please contact us now.
Discounts are available to customers printing their flyers/leaflets with us too.