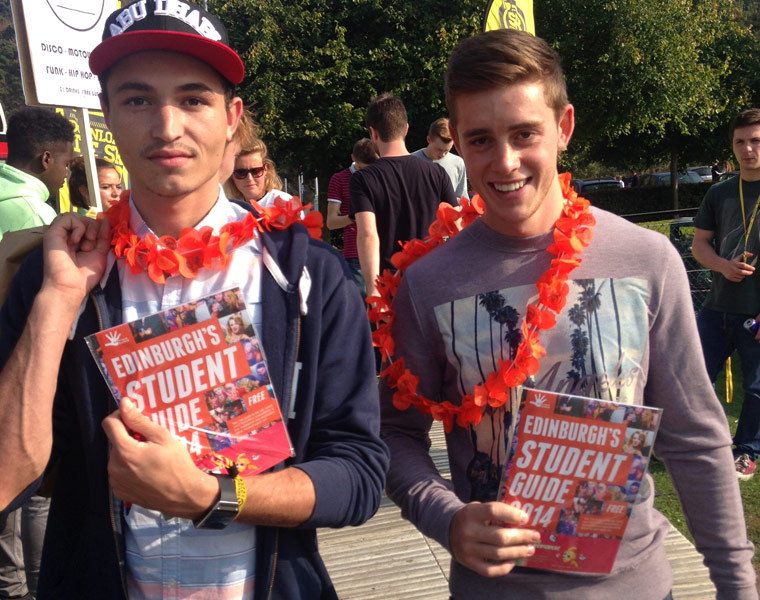 Given away free to students!
Our bespoke packs are the most direct and effective form of communication with the responsive student market in Edinburgh. We print and distribute 3,000 packs every month during term time.
Crammed full of all the essential information such as exclusive discounts, party flyers, product samples, stickers a free A3 poster and the chance to win tickets to the best events in the city, or prizes from clothes to money to spend in stores, our packs are the ultimate guide to Edinburgh to help students spend their money wisely…
Given away free to students in Edinburgh, the distribution of each issue is via two direct distribution platforms. This involves around 2,000 packs being distributed via door to door into the post boxes of the student halls of residence in Edinburgh. Then around 1,000 distributed by our  professional promotional staff, handing them directly to the students during the busy lunchtime period on selected week days outside Edinburgh University and Napier University to ensure we reach as many students as possible in a timely manner, achieving a 100% pick up rate, with a visual impact.
COST:
Inserts: £40 + vat per 1,000 flyers Adverts: From £95 + VAT
We have package deals available for entry into multiple issues – please just ask
If you want extra student business, you need to get involved in these packs.
Click Here to download our 2016 / 2017 information pack and contact us today to discuss your requirements or to book in for our packs.