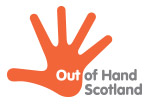 We're an established design, print and distribution specialist based in Edinburgh. As part of the Out of Hand Group, one of the UK's leading flyer printing companies, we design, print and distribute literally millions of flyers and posters each year.
As well as producing over 30 million flyers a year, we print posters, tickets, banners, stationery, magazines, brochures and anything else you may need. We also offer distribution services with a comprehensive regional and national distribution network of clubs, bars, shops, cafes and street teams in place, if you have a product to showcase, or an event to promote, we can make sure the message gets across.

As officially approved contractors to City of Edinburgh Council, we work with businesses and organisations of all sizes across Scotland and have built a good reputation for providing high quality, cost effective and reliable services catering for the events and leisure sector.
Local Knowledge
With over 15yrs experience, we specialise in providing high quality, cost effective print, creative design and promotional solutions that deliver real results to brands, publishers, venues and promoters across Scotland. Whether you require a business card designed, flyers/leaflets printed, a weekly team of merchandisers to distribute magazines to commuters, posters/flyers to retail outlets or an effective Edinburgh Festival Fringe campaign, we can help and ensure a good ROI for your budget.
Unique Integrated Supplier
From discussing your ideas and design concepts with our in house designers, to digital or lithographic printing production within our own factories, to actual distribution via one of our many various platforms available – we're unique in Edinburgh by offering all these services under one roof. Why go through the hassle of dealing with several different companies when you can rely on one, to professionally deal with all aspects of your print and distribution campaign from start to finish on time and within budget.
Specialists
As early pioneers of large scale flyer/leaflet 'batch printing' that is now common across the industry, we literally print millions of leaflets and flyers and assorted promotional material annually. In a crowded market place, we offer a fast, trusted and cost effective service, backed up by an accountable, knowledgeable customer service team that can advise you on the best solution for your needs.
The Vision
As part of the Out of Hand group, Out of Hand Scotland's vision is to become your first choice of integrated supplier of Print, Design, Distribution and Targeted Marketing Solutions across Scotland.