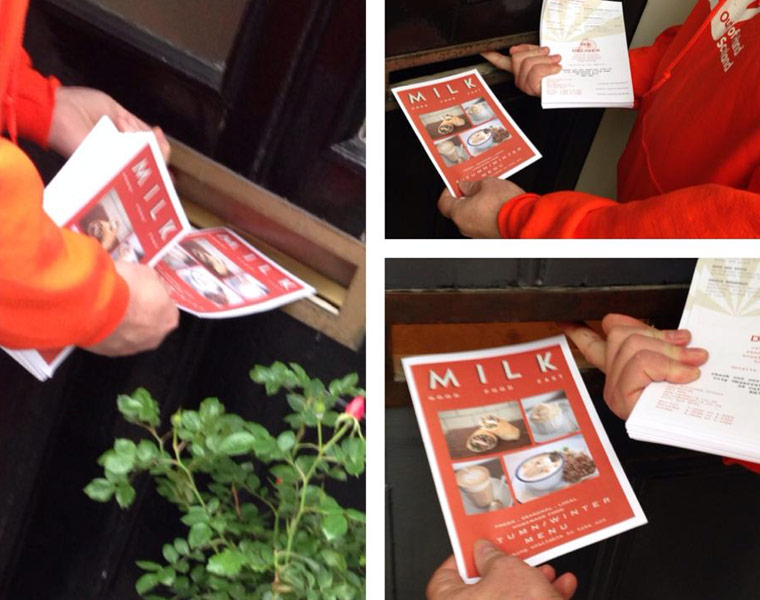 Amplify your message to reach as many potential customers as possible without having to buy an expensive database. With our GPS Tracked Door to Door service, we will deliver your leaflet, brochure, catalogue or other print materials throughout Edinburgh within a boundary chosen by you.

Reassuringly, printed media such as direct mail; posters and flyers are still outperforming digital media and providing companies better return on their investment. This is due to emails being easily ignored and/or deleted before opened, radio and TV can be switched off, which all makes our door to door distribution a really tangible service.
You specify your target audience by choosing which postcode areas in Edinburgh you wish us to distribute to
All our distributors are GPS tracked, so you can see which areas have been covered and when. (Full in depth GPS tracking report supplied once the distribution campaign has been completed, for your piece of mind).
All distributors supervised by team leaders on the streets.
Measure the success of your campaign by adding online discount codes or tear off coupons, increasing your direct sales.
We have a good relationship with operators of privately run student's halls of residence if this happens to be your target audience.
SHARED DISTRIBUTION
A cost effective option where your leaflet will be delivered alongside two or three other non competing leaflets. Perfect for non-date specific campaigns as leaflets go out as and when there is enough demand for each postcode area.
COST: From £70 + vat per 1,000 flyers / leaflets.
SOLUS DISTRIBUTION
Our most popular option, where your leaflets are delivered on their own, giving your more flexibility on delivery dates – you chose when and where and we do the rest!
COST: £140 + vat per 1,000 flyers / leaflets.
Discounts are available to customers printing their flyers/leaflets with us too.
To book in your door to door distribution or for additional information about this services please contact us now.