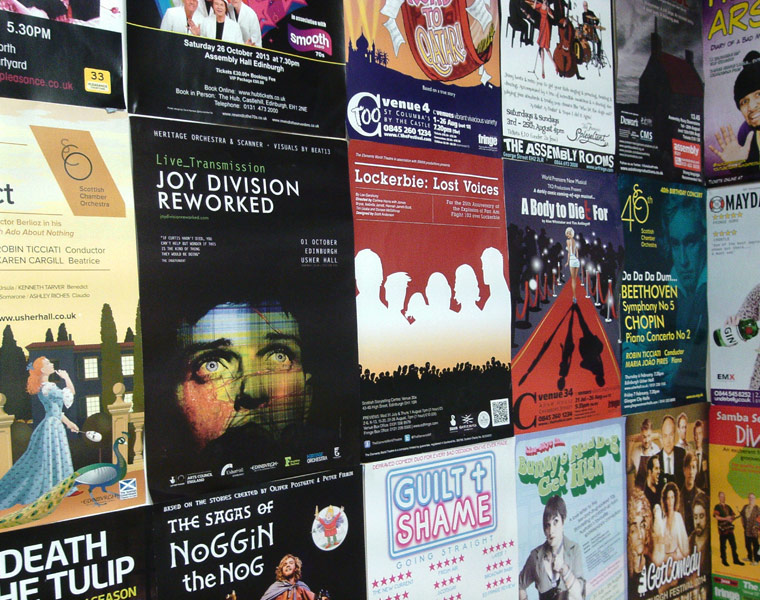 Posters are distributed daily to selected shops, bars, pubs, restaurants, cafes, coffee shops, takeaways, laundrettes, hair / beauty salons, leisure facilities and family attractions.
Space within outlets is highly competitive during the Fringe with limited space available – we have built up good relationships with numerous businesses over the years and we know which outlets are happy to take posters, where people are likely to go during the Fringe and the best places to display your promotional material. We have multiple routes covering the city centre and surrounding areas – unless otherwise specified when booking, your posters will be evenly spread out across all routes.
Only the busiest and most relevant outlets used
Daily top ups to replace missing posters A4 or A3 size posters accepted (A4 posters preferred as these will get into places easier)
Free online proof of posting gallery so you can see where your flyers have been displayed (photos show flyers on display) Posters are placed inside outlets – not outside on street furniture or fly posted on empty shops. Maximum quantity: 200 posters per show for continuous coverage throughout the four week Fringe period, allowing extra posters for replenishing outlets where needed. Minimum booking is 100 posters
COST:
A4 Posters:
Distribution only: £75 + vat per 100
Print and distribution: £95 + vat per 100
A3 Posters:
Distribution only: £100 + vat per 100
Print and distribution: £125 + vat per 100
Please note: We are unable to display posters in Fringe venues so please ensure you keep some of your print back for display in your own venue.