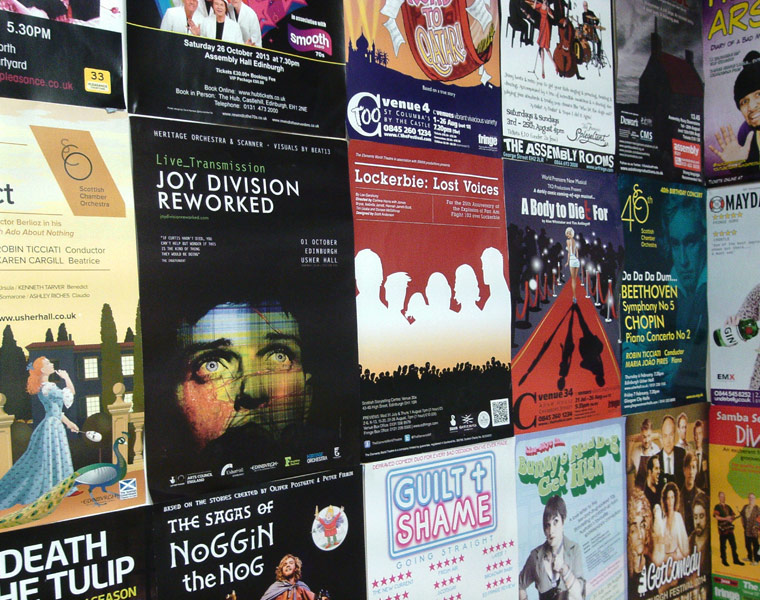 Posters are distributed daily in selected shops, bars, pubs, cafes, takeaways, beauty salons, leisure facilities and family attractions.

We have successfully built up good relationships with numerous business owners over the years and we know which outlets are happy to take posters, where people are likely to go and the best places to display your promotional material.
During the Fringe, we visit outlets daily to ensure continuous coverage and can also put your posters on the Royal Mile Fringe drums as part of the distribution service during this period too.
Only the busiest and most relevant outlets used
Seven different routes covering central Edinburgh
Daily top ups
A4 or A3 size posters accepted
Post activity client report including proof of placement images of posters available for small additional cost of £10 + vat per 100 posters.
Posters are placed inside outlets – not outside on street furniture or flyposted on empty shops.
If you are looking for posters placed outdoors on the streets, please see the outdoor scheme operated by our parent company, Out of Hand

here
COST:
A4 Posters:
Distribution only: £60 + vat per 100
Print and distribution: £75 + vat per 100
A3 Posters:
Distribution only: £80 + vat per 100
Print and distribution: £110 + vat per 100
(Please note, due to restricted space, we can't distribute posters larger than A3 to our indoor outlets. We are unable to display posters in Fringe venues, so please ensure you keep some of your print back for display in your own venue.)
IMPORTANT NOTE:
Due to the nature of the Fringe with over 3,000 shows all taking place during the same four week period, space in outlets in limited. Whilst we do our best to secure space for our clients posters in all the outlets we visit, we can't always get everyone's posters up in all the same places we visit. Please bear in mind that once we've put up a poster in an outlet and left, we have no control over how long it will stay up. Due to the intense competition for wall space, we aim to visit outlets daily and replace posters where necessary.
For guaranteed display throughout the duration of the Fringe, please contact us about our A3 poster frames.