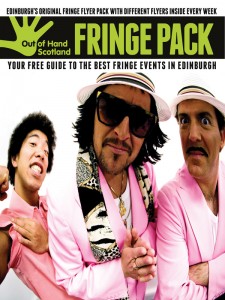 Our popular weekly A5 packs contain a collection of selected Fringe show flyers and a limited edition A3 poster. The packs are distributed by our street teams during the busiest times of the day around core Fringe hubs (to include The Royal Mile, George Square and The Half Price Ticket Hub), directly to people looking for shows to go to every day from 5th August to 29th August. These Packs are also being distributed by our distribution team at our merchandising stands throughout the city centre.
For the shows and venues, inclusion in the packs is a very cost effective method of marketing it, reduces waste and your printing costs. For the festival fringe goers, having our pack gives them a clear, concise and useful guide to the best shows the Fringe has to offer every week.
10,000 copies distributed per week
Three editions during the Fringe
Released every Monday and distributed hand to hand by our street teams
Handy A5 sized pack folds out to an A3 limited edition show poster with editorial.
Limited number of adverts and inserts ensures an uncluttered environment when compared to magazine advertising and other solutions.
COST:
Flyer insert: £40 + vat per 1,000 flyers
(Min order 1,000 flyers, maximum size is A5 / we are doing 10,000 packs per week so will need 10,000 flyers for a full weeks coverage)
Folded flyer / brochure insert: £50 + vat per 1,000 flyers
ADVERTS:
Front Cover Advert: £750 + vat
Front Cover Banner: £250 + vat
A5 Advert inside: £225 + vat
Double Page Spread: £425 + vat
Half Page Advert: £150 + vat
A3 Poster: £750 + vat
Outside Back Cover: £750 + vat
ADVERT / INSERT DEADLINES:
Week 1: Mon 1st August 2022
Week 2: Mon 8th August 2022
Week 3: Mon 15th August 2022
Max size of insert: A5
Max weight of insert: 20g
ISSUE DISTRIBUTION DATES:
Week 1: w/c Mon 8th August 2022
Week 2: w/c Mon 15th August 2022
Week 3: w/c Mon 22nd August 2022
FRINGE PACK SPECIAL OFFERS:
These packages include the print of your flyers on 130gsm paper, delivery and distribution of your flyers into our Fringe Pack at an exceptionally good rate.
12,000 printed, 10,000 distributed, 2,000 to keep:
A5 £438 + vat. Saving £120.
A6 £365 + vat. Saving £120

25,000 printed, 20,000 distributed, 5,000 to keep:
A5 £813 + vat. Saving £280.
A6 £678 + vat. Saving £280
40,000 printed, 30,000 distributed, 10,000 to keep:
A5 £1,096 + vat. Saving £560.
A6 £886 + vat. Saving £560
We can offer discounted print and distribution packages if we also print your flyers, please contact us for more details.