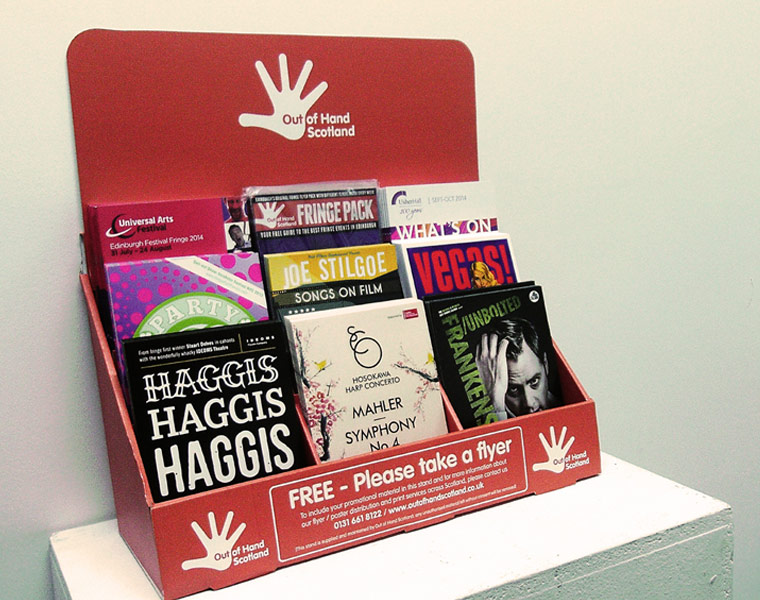 As we undertake flyer distribution all year round, we have successfully built up good relationships with staff and owners of over 250 suitable outlets such as shops, bars, pubs, cafes and takeaways in the city centre and therefore manage to get prime visibility within these locations. A majority have our branded display stands but we also visit outlets which don't necessarily have space for our stand but give permission to display flyers.
Over 250 outlets within our extensive network
All city centre outlets visited regularly during the Fringe
We take photos of all flyers distributed in each outlet
Free online proof of posting gallery so you can see where your flyers have been displayed (photos show flyers on display)
Suggested quantity: 5,000 flyers for continuous coverage throughout the four week Fringe period, allowing extra flyers for replenishing outlets where needed
Minimum booking is 1,000 flyers
Maximum flyer size: A5
COST:
£90 + vat per 1,000 flyers
£120 + vat per 1,000 booklets / programmes / beermats / maps
£150 + vat per 1,000 programmes (large size)
For your peace of mind, and to prove we have undertaken the work booked, we provide each customer a link to their online gallery showing a selection of photos of your leaflets in situ. Please note we don't supply a photo for every single leaflet distributed.
NOTE: Our online proof of posting gallery is not real time, and it may take a few days for your images to be uploaded, after the distribution has been undertaken.