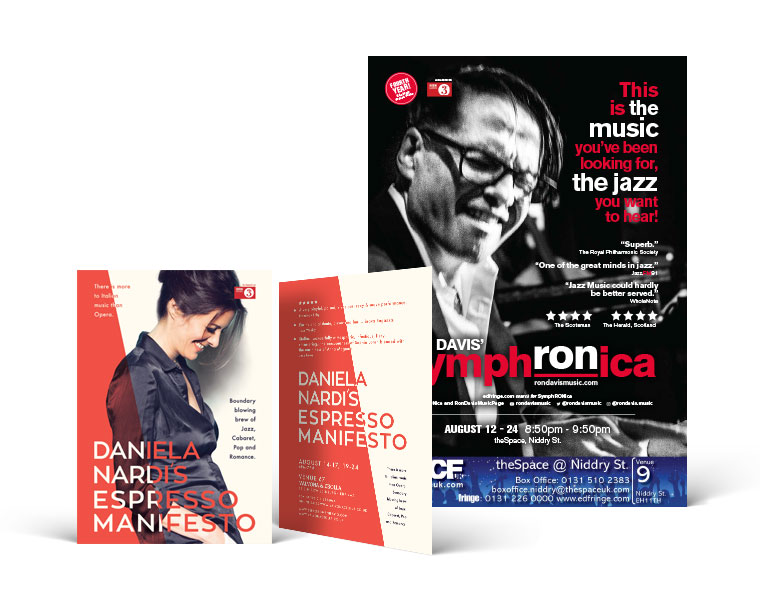 We can help you with effective and appealing design, that will promote your show during The Edinburgh Festival Fringe. 
Our designers have over 25yrs of print and digital design experience, turning around high quality creative artwork to meet even the most specific of client briefs. 
Devising branding and promotional campaigns from scratch or developing existing ideas and branding you already have, we make sure the finished design effectively communicates to your target audience.
Our studio can create designs for your event, including all the display, poster and flyer formats available during The Edinburgh Festival Fringe.
Design Packages
Both our packages include all the design formats you'll need to successfully promote your show:
1 x Poster design
Pick your size (A4, A3, B2, A2, A1)
1 x Double sided flyer design
Pick your size (DL, A5 or A6)
1 x Social Media Assets design
Includes headers for Facebook, Twitter and Instagram Pages
3 x Large Format design for outdoor advertising
Lamp Post Wrap, Widescreen, 30×20, 4-sheet, 12-sheet
Creative Package – £325 + vat
You supply the text, but no photos / images. We use a suitable photo from Stock Library.

Main Package – £275 + vat
You supply high resolution photos, text, logos and brief of what you'd like.
We work with all the different venue groups at the Edinburgh Fringe, so have the specific venue branding guidelines required for your promotional print.
Additions to the design packages:
Small format design: £40 + vat
Half Page Advert: £40 + vat
Large format design: £50 + vat